Every association leader wants to answer the question: How can I secure the future of my association in an ever-changing digital landscape?
Professional associations thriving today in our digital-first world share one key trait. They've shifted their thinking from a focus on serving solely members to serving broader audiences. What we call audience strategy is an emerging approach leveraging technology, data and content to reach and engage global audiences. Those audience engagement capabilities drive a better membership experience via personalization, but importantly open up new business and growth opportunities beyond dues and events.


What is Audience Strategy?
Audience strategy is a personalized, data-driven approach to building the largest possible audience for your association as a path to organizational growth. Audience strategy relies on a deep understanding of audience interests and behaviors, informed by real-time data. Audience insights can be used to launch personalized content strategies, inform new digital programs and interactions, dramatically improve audience growth and engagement, and ultimately fuel radical growth for professional associations. Audience intelligence allows your association to create personal, 1:1 experiences for members and audience groups at scale.

Shifting to a digital-first model powered by audience strategy suggests a few key outcomes to secure the future health and growth of your organization:

Move away from a member-first model, towards a holistic audience model. Don't just serve members - serve industry audiences. Broaden your consideration set to expand reach and improve engagement across association touchpoints.


Improve engagement with your core offers. Leverage data-driven insights to introduce new content, events, and digital programs specifically designed with your audience in mind. These personalized association experiences are informed by your audience's interactions with your association, so you'll never question their ability to resonate with your community.


Create dynamic digital experiences that run themselves. Move away from reliance on heavy lift, heavy planning annual events that are easily disrupted (ahem, COVID) and towards dynamic digital experiences that are easier to execute - AND which produce evergreen content.



Supercharge marketing and communication efforts. Leverage unified audience data to launch targeted campaigns and marketing tactics to engage segments of your audience. Don't just create better experiences - know exactly who to share them with, how to reach those individuals, and how to format your offers to meet audience expectations.


Unlock wholly new revenue streams.

When you know your audience this intimately, the new revenue possibilities are endless. Leverage your audience intelligence to launch new sponsored content and paid experiences with industry vendors. Develop new learning and continued education experiences to engage the broader community. Develop monetized content strategies engaging various members of your community and industry.
Now that you've got a sense for the model and its potential to drive growth, let's break down the things you should consider if you'd like to implement audience strategy at your organization.

Connecting Your Siloed Systems
Before your organization can launch an audience strategy, you must lay the foundation for collecting the data you need to be successful. Associations typically employ very powerful systems for managing members (AMS), content (CMS), events (EMS), learning programs (LMS), and more. However, these systems often don't share data. Disconnected data stores begin and end in organizational silos, leading to fragmented member interactions, disappointing digital experiences, and opportunities left behind. For example, say an attendee of last year's annual event attended a session about team management strategies. That same individual later read a few articles about management on your association's blog and browsed manager-level opportunities on your job board. If your data systems were connected properly, you'd be able to fully understand their journey and serve this person timely, impactful content.
Shifting Emphasis from Members to Audience
Audience strategy encourages associations to think more broadly about who an association should be speaking to. These broad audiences will likely include groups like active members, inactive members, potential members, industry vendors, industry sponsors, potential partners in adjacent markets, etc. Within each of these groups, there could be multiple sub-segments and interest groups. These behavioral segments can be identified by analyzing the data gathered from your newly unified systems.

Next, associations must understand how to collect enough data to truly understand what motivates and drives each individual member of the audience.
Expanding and Diversifying Content and Digital Offers
Chances are, your association already creates valuable content, and a lot of it. Your integrated systems and data tracking framework allow you to read interactions with that content to understand member behavior, interests and goals. Now that you've broadened your consideration set, ask yourselves (and ask your data) what additional content would resonate with your new audience. Also consider varying content formats. Some users may love reading long form posts, but others may prefer visual videos, gifs, infographics, or interactive quizzes. Engagement with new and legacy content artifacts will reveal valuable insights about your audience and provide a roadmap for launching targeted content strategies and digital offers to engage your audience segments. The insights you uncover will allow you to know exactly what to create/launch/experiment with next in order to better serve each and every audience members' unique interests on a personal level.


Putting Intelligence Data to Work
As you track interactions with your association content, you'll notice patterns emerge that help you create better content and digital experiences. For example, perhaps a medical association discovers that articles on "Pediatric Surgery" are getting more traction than others. This reveals an opportunity to meet demand: create more pediatric content, launch pediatric learning opportunities, or leverage your audience insight to engage pediatric sponsors.
You'll also know which members of your audience are interacting with these pediatric content pieces, allowing you to send them targeted marketing and communications streams, creating a more tailored association experience. Imagine if you could offer each and every member a completely personalized experience of your association, specifically built to meet their career needs, interests and aspirations. audience strategy allows you to do just that, thanks to
Achieving Phenomenal Results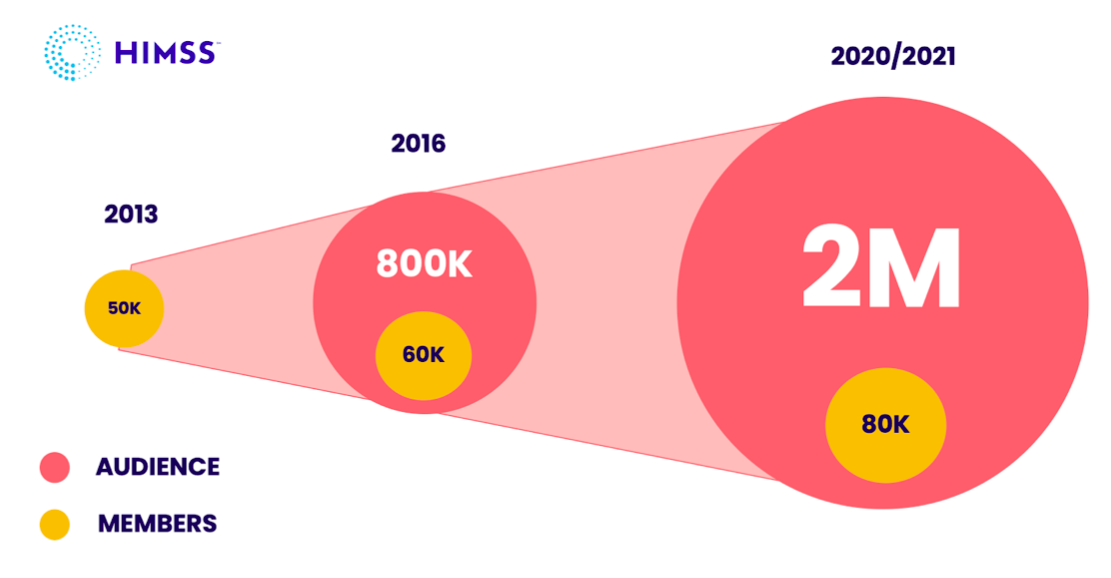 Audience strategy has been deployed to great effect in associations like HIMSS where they've grown their audience 40x and along the way created new products and business models to drive growth.
The audience grew because we had the content data and audience analytics to engage them because we understood them. We personalized. We were able to deliver directly to the individual, what they wanted when they wanted it, and in the format that they wanted. As a result of all that, we were able to build completely new sets of products that diversified our revenues, and gave us a continued growth trajectory at HIMSS.


– Steve Lieber, former CEO, HIMSS
The technology landscape has come a long way in the last few years. So carrying out the audience strategy is easier than ever. In a digital first world, and (at best!) a hybrid 2021, and it's never been more essential as a path to growth.
---
This post was penned by the folks at Hum 👋. Hum is a new audience intelligence platform built to help associations unify data and bring The audience strategy to life.
If you want to learn more, visit us at hum.works or join us in our digitalNow session:
"Introducing Hum: A New Audience Intelligence Platform for Professional Associations"
Steve Lieber, former CEO of HIMSS lays out "The Audience Strategy," a transformative digital engagement model for increasing your association's reach, revenue, and resilience. Jake Zarnegar provides an overview of Hum, the audience intelligence platform built for professional associations to execute the audience strategy.
If you haven't registered for digitalNow 2020, you can do so now.